Support For Individuals, Couples, Families & Professionals
Sessions available on-line / in person in English / मराठी / हिंदी as required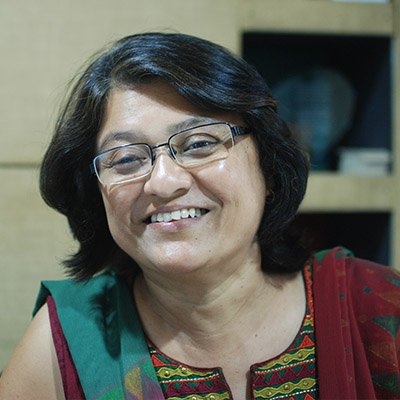 Hello! I'm Neelima Kirane
Relational Psychologist
Someone to Talk To
A supportive hand to uphold, 
A non-judgmental ear to hear your story, your stress, anxiety, doubts
A help to clear issues and find your own path, your own decision.
I am working in this field of emotions and thoughts, responses and reactions for more than 15 years now. Yes, I have crossed the milestone of 10,000 hours of practise. Now I strongly believe that unless my clients understand their own thinking and emotional patterns, they will not be able to handle issues in life on their own. My help is to locate personal issues and behavioural patterns, to release clients from the baggage of past and then to practise this methodology for upcoming issues. When this new thinking and behavioural pattern is set as lifestyle, happiness is long lasting.
"I consulted Neelima mam for my educational and emotional issues. My experience with her was very helpful and I have always appreciated how comforting and understanding she has been throughout my therapy sessions. Apart from her empathetic nature she is one of the best therapists in Pune in my opinion."
Mrigendra S.,
Student, Pune/Jabalpur
[/db_pb_slide]
"We consulted Neelima Kirane mam for our marital problems. She helped us to understand the actual problems, realize misunderstandings between us. Her speciality is that, instead of giving ready solutions she made us find out our own solutions that have long lasting effects, we can use those techniques for new problems as well."
Dipti & Swapnil
Researcher Scientists, Pune
[/db_pb_slide]
"The Parenting in Lockdown & Emotional Awareness workshop was really excellent and it helped a lot to understand our concepts about Parenting. Time is getting changed and so Parenting. I will suggest to attend this workshop for all young Parents."
Prathamesh
Teacher, UAE
[/db_pb_slide]
"It was great session mam.. ...Thank you so much... From few days I was thinking that Parenting is the most difficult task in life... But after attending your session, I learned that it is the another chance to live my childhood again with my baby.. N I should enjoy that 😃. Yes I will follow all the things which you have told us in the session . You are so positive. This session was a gift from my Aunt. Thanks to her and it is a great idea to gift such useful session to your loved ones. I would definitely like to attend your other sessions.
Sharvari, Fitness Coach
Amaravati
[/db_pb_slide]
"My feedback on Parenting in Lockdown & Emotional Awareness Workshop 1. I felt that the content of the workshop was very correct for the topic. 2. The points discussed were really practical and as the implementation was also discussed, it was really helpful to bring it in daily routine. 3. Being a small number, we got a chance to express. 4. Experience and views of Neelima tai gave new approach of looking at parenting."
Deepti, Chinmay
Engineers, India /Qatar
[/db_pb_slide]
"What I started after the workshop is to focus on Must, Should and Could. The session had many take always. What I realised is instead of focusing on all at once , getting habituated to one then picking up on 2nd and so on will be useful. There is a lot to unlearn for us as parents. And hence starting with baby steps."
Adwaita, HR Professional
Bangalore
[/db_pb_slide]
[/db_pb_slider]
A FREE BRIEFING SESSION
You can talk to me to brief your problem and to know about the counselling process and REBT.
Contact Me
Ask a question or book an appointment below. 
Approach Learning Solutions, Royal Park, K.P.Kulkarni Path, Near Hotel Gourish, Apte Road, Deccan Gymkhana, Pune 411004
neelima.kirane1@gmail.com